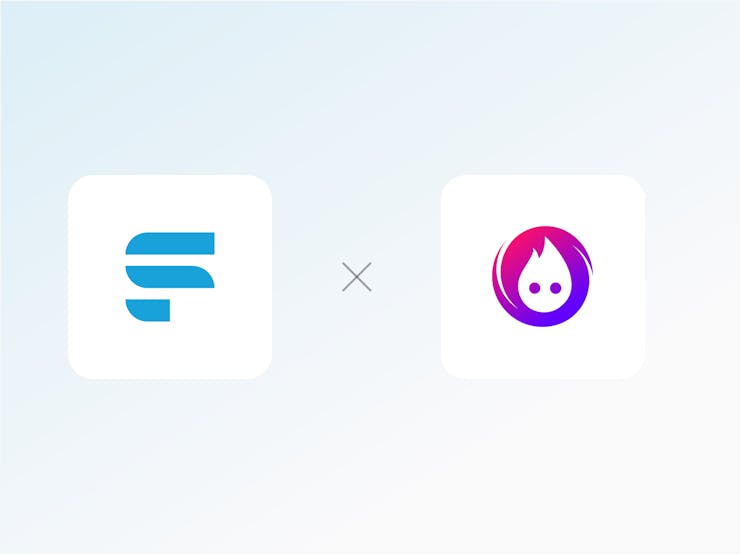 Being Data-Driven: How Streamflow Used Datawisp to Solidify their Position as a Leader in Token Vesting on Solana
In March 2022, Streamflow Finance, leaders in Solana-based token vesting, approached us looking for a solution that could deliver a transparent, live understanding of the competitive landscape they were operating in. They wanted both the ability to develop and track specific KPIs as well as a simple way to answer ad-hoc data questions in order to make better business decisions.
This proved to be an exciting challenge for the Datawisp team - our data exploration product had been live for two months and the Solana integration had barely been written a day earlier.
We sat down with the Streamflow team and outlined a few important steps:
Assess the token vesting competitive landscape

Define the Key Performance Indicators (KPIs) to measure

Gather the data

Create the necessary outputs
Ecosystem Landscape
To make sure that the Datawisp dashboard gave an accurate representation of the token vesting market (as well as Streamflow's position in that market), it was important to identify all the major players. After doing a little research, and from off-hand experience, Streamflow chose the top three competitors to include in the analysis.
KPIs
The next step was to identify which KPIs to use. After considering a number of data points, Streamflow decided to go with Total Value Locked (TVL) as the most impactful KPI. They concluded that measuring TVL was a robust KPI that encompassed healthy and meaningful usage by teams on Solana. Additionally, unlike in some other dApps where TVL is highly volatile, in token vesting TVL is sticky due to lengthy vesting schedules.
Data Gathering
After that, Streamflow used Datawisp to import all the relevant data: 1) transaction data from both their contracts and competing ones and 2) market prices of each token in order to calculate TVL in USD.
While data stored on a public blockchain like Solana is, in theory, easily accessible, Solana on-chain programs are compiled to Berkeley Packet Filter (BPF) bytecode and typically store their data in a binary format like Borsh. This makes it somewhat difficult to correctly import and display this data in an analytics platform.
In Datawisp, all you need to work with data like this is a program address and - optionally - an IDL (Interface Description Language). The IDL describes how to decode those binary blobs back into meaningful data. For programs using the Anchor framework, the IDL can be stored directly on-chain. In that case, data can be imported directly. If no public IDL is available, Datawisp has an IDL editor that facilitates this step.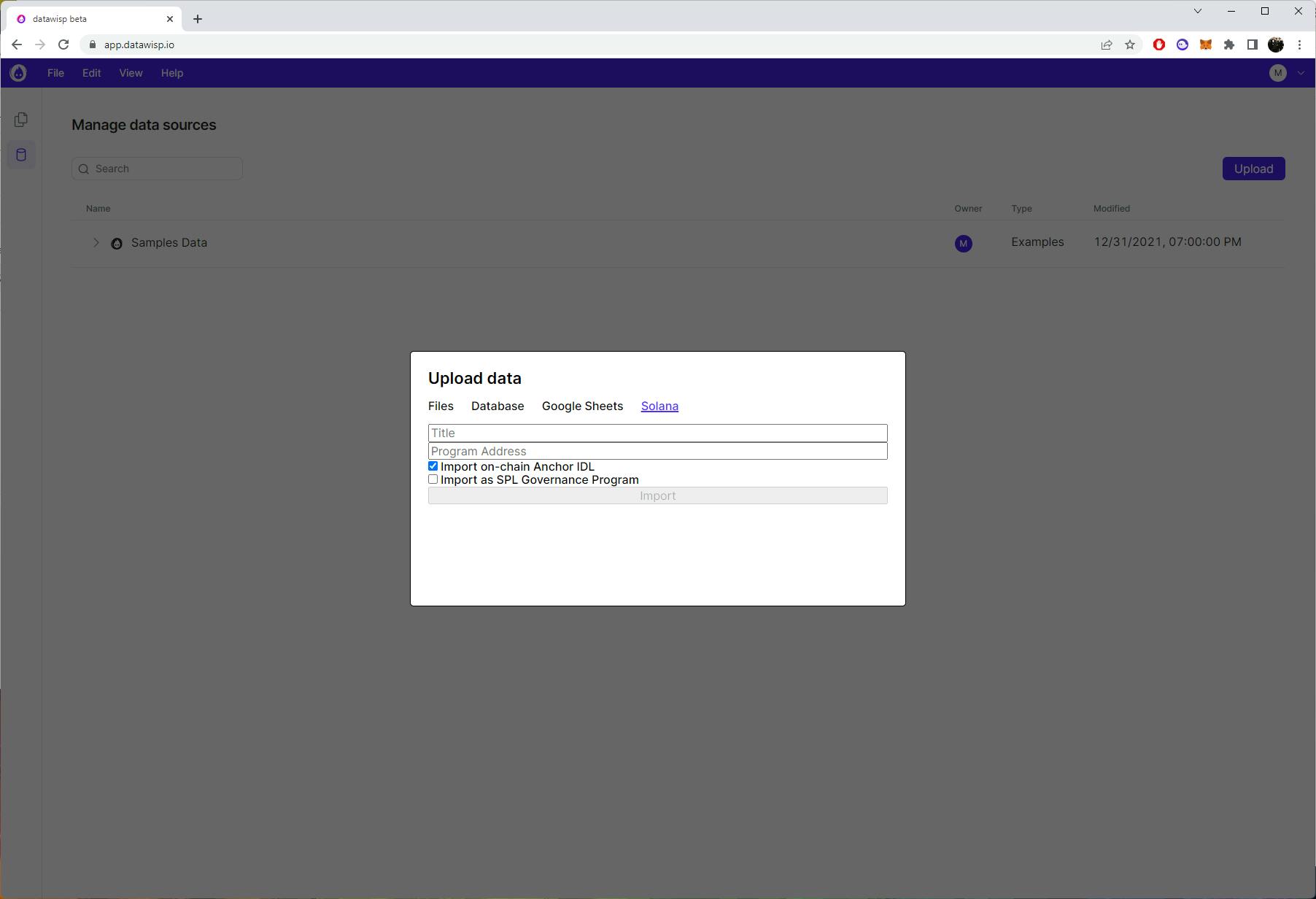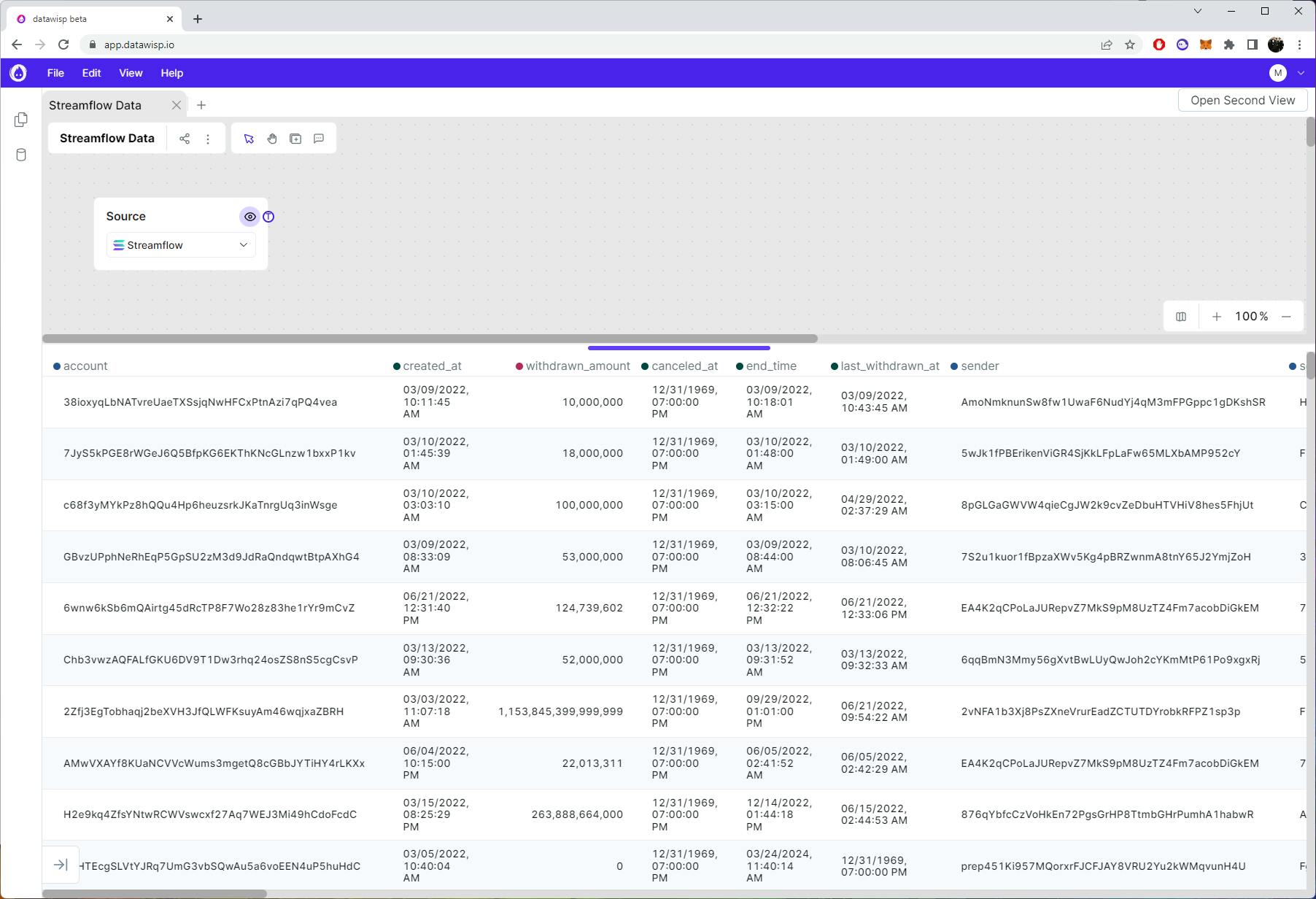 One challenge the Streamflow team ran into was that one of the competitors had a lot of forks of their vesting smart contract which made it difficult to find all the relevant programs. To solve this, the Streamflow team built a Magnet CLI - an open-source tool that analyses the Solana chain and programs to check how similar they are to the referent program (if they're a fork/redeployment). Once this was working they reviewed the output and gathered another 20 programs to add to the analysis.
In addition to the contract data, the Streamflow team needed to import relevant token prices in USD in order to make an apples-to-apples comparison. Datawisp supports a variety of web3 and web2 sources. Initially this was done through our Google Sheets integration, although we eventually realized having this data pre-loaded into Datawisp would save Streamflow (and other customers) a lot of time. This dataset is updated hourly and available to all Datawisp users.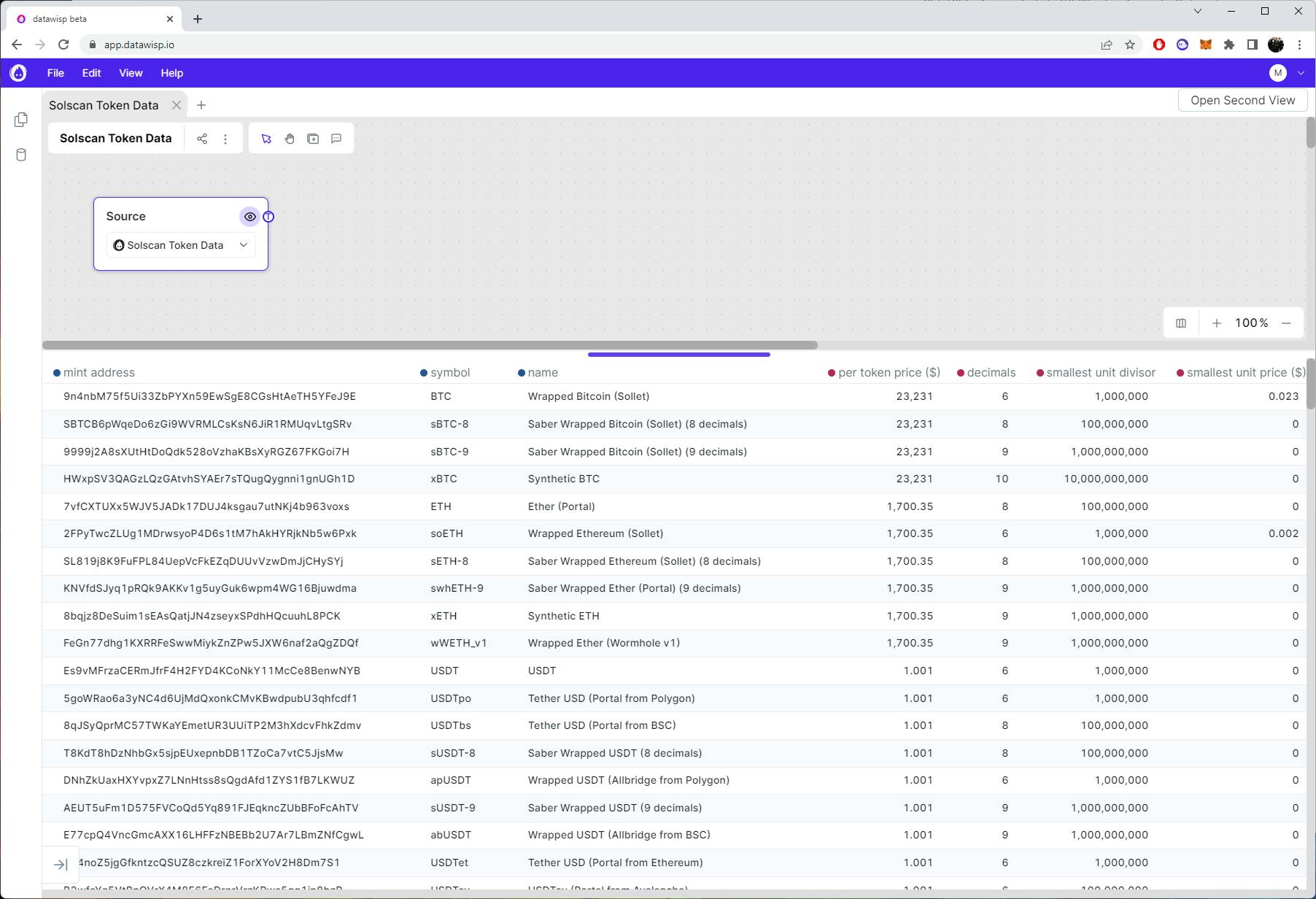 KPI Creation
Once Streamflow had all the necessary data and KPIs in mind, all that was left was to 'build' those KPIs in Datawisp.
Datawisp works by connecting a series of blocks together that transform the data in some way; here you can see Datawisp adding a new column for each calculated field:
Net deposited amount (tokens) * token price (USD) = Total deposited (USD)

Withdrawn amount (tokens) * token price (USD) = Total withdrawn (USD)

Total deposited (USD) - total withdrawn (USD) = TVL (total value locked)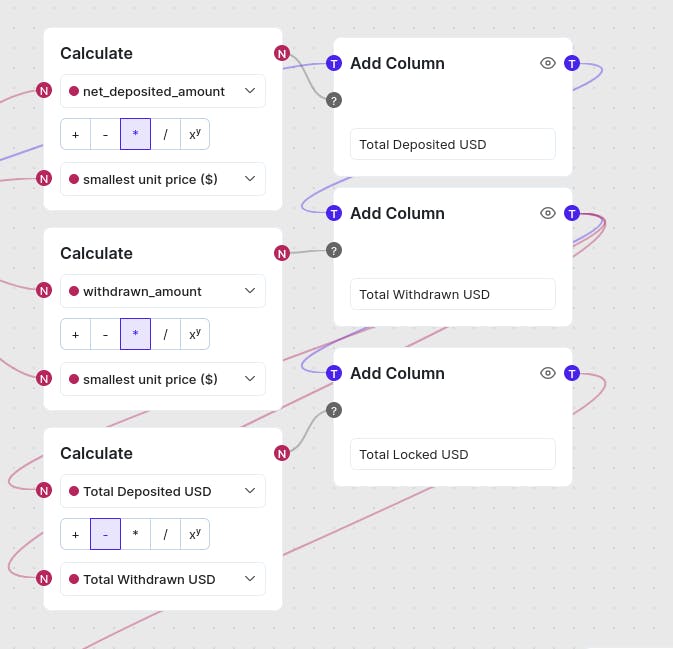 Streamflow did this for its data and that of all its competitors to create the necessary dashboard in Datawisp.
The results
With the dashboard created, Streamflow could see that they had established a position as market leaders for token vesting on Solana.
| | |
| --- | --- |
| Streamflow Finance | $133,549,754 |
| Project 1 (with all the forks combined) | $77,182,807 |
| Project 2 (including own tokens) | $10,277,115 |
| Project 3 | $610,570 |
*Data as of August 5th, 2022
Data-driven approach
With real-time reports on projects that use token vesting smart contracts on Solana, Streamflow has been able to measure critical data points such as:
Time from TGE to first token unlocks

Average vesting contract duration

Average value deposited per contract
They have been using these insights to better understand their target customers and drive sales strategy - focusing on approaching customers with their token vesting offering at the right time in their lifecycle, and boosting sales and TVL.
"Datawisp has really become an essential part of how Streamflow works with data, develops and monitors its internal and external KPIs, and sets its strategy."
-Angelo Boskovic, Head of Business Development, Streamflow Finance