What is Datawisp?
Datawisp is a no-code platform for working with data that lets anyone easily find the information they need to do their jobs effectively.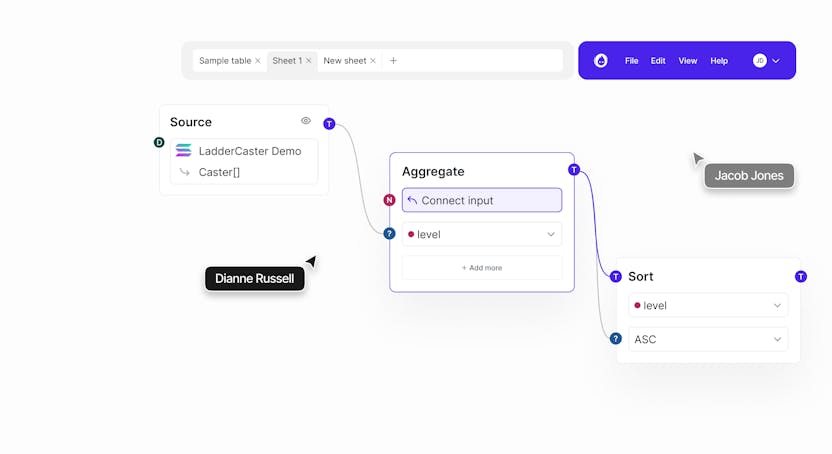 Features
Our no-code query builder lets anyone import data, transform it, and create outputs the same way a developer would - just without code! Datawisp comes packed with features to help everyone on your team work effectively with data and drive your business forward.
Import and combine data of any type
Datawisp lets you easily import many different kinds of data (both web3 and web2 sources) and manipulate them in our visual query editor to answer ad-hoc questions or monitor important KPIs. Use them separately or combine them to draw even deeper insights.
Collaborate in real-time
Unlike BI tools where dashboards are made by few people and distributed to many, Datawisp is built to foster collaboration. Users can work together seamlessly in real-time across organizations, and everyone has access to the same exact version of Datawisp (no difference between creators and viewers).
Easy API access
Our API lets you access any analysis from 3rd party websites and apps. Create an in-game leaderboard, export wallet addresses for a whitelist, and more!
Integrations
Work with any number of data sources concurrently. Need something that's not listed? Let us know at hello@datawisp.io and we'll get back to you ASAP.
Files
Upload individual files of various types.
Supported
.CSV
.XLSX
Google Sheets
.JSON
Databases
Connect directly to databases for up-to-date information.
Supported
Web 3
Access on-chain data directly from the source.
Supported
Want to see some real use cases?
Check out how some of our existing clients are leveraging Datawisp!
Case studies