Product
We know from experience that data requests can be a huge burden on engineering. Datawisp is a visual, non-technical way to explore data that your whole team can use.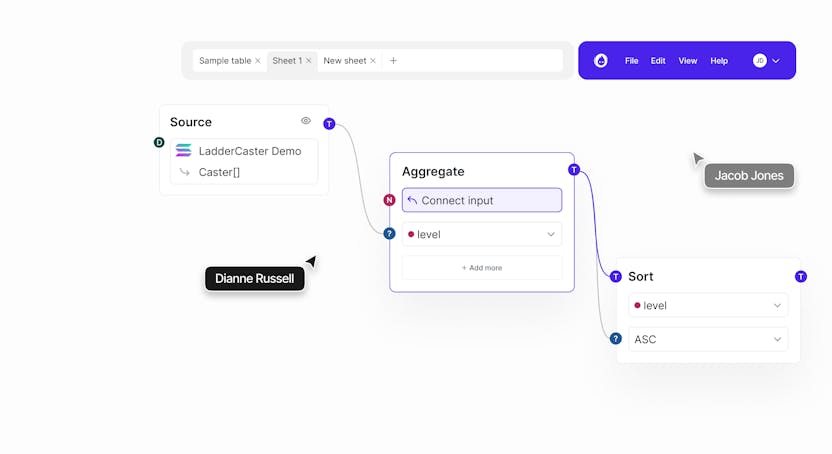 Integrations
Connect to and work with any number of data sources concurrently. Need something that's not listed? Let us know at hello@datawisp.io and we'll get back to you ASAP.
Databases
Connect to your data using Postgres, MySQL, and more.
Supported
PostgreSQL
MySQL
MongoDB
MariaDB
Microsoft SQL Server
Snowflake
Amazon Redshift
Google BigQuery
Files
Upload a single file like a CSV, JSON, or connect to a Google Sheet. It's that simple.
Supported
.CSV
.XLSX
.JSON
Google Sheets
.TSV
Web 3
Easily access your on-chain data, combine it with web2 data, and get to the full picture, faster.
Supported
Solana

Polygon

Ethereum

Avalanche

Arbitrum
Features
Datawisp comes packed with features to help everyone on your team work effectively with data and drive your business forward.
Import & combine data of any type
Import web2 and / or web3 data sources and join them to derive advanced insights.
Collaborate in real-time
Datawisp sheets are easily shareable across teams, making it easy to break down data silos, solve problems together, and share findings.
Export with easy API
Our API lets you export your Datawisp analysis to your organization's websites and apps. Create an in-game leaderboard, export wallet addresses for a whitelist, and more!
Save time and reduce errors
Get started in just a few clicks with instant upload drag and drop visual interface means you never have to worry about buggy syntax.
Govern your data with confidence
Datawisp sheets are easily shareable across teams, making it easy to break down data silos, solve problems together, and share findings.
Share your findings with the world
Our public dashboard feature allows you to share analysis with your community via your website, social media, and email.
Data Blocks
Datawisp is different from other analytics tools. It's designed to save time and help everyone contribute to the insights finding process, not just a handful of data experts.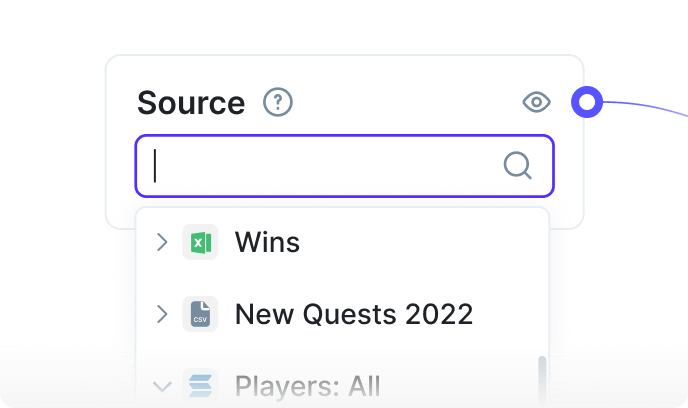 Source
The source block is where it all begins. Any dataset you connect can be transformed to create valuable and repeatable insights.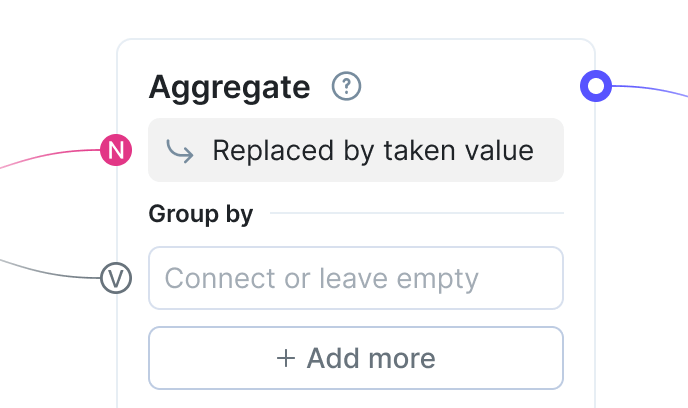 Aggregate
Quickly understand overall trends in your data with summary metrics. Aggregate merges groups of multiple rows into a single row each. Produces one output row per different combination of "key" inputs.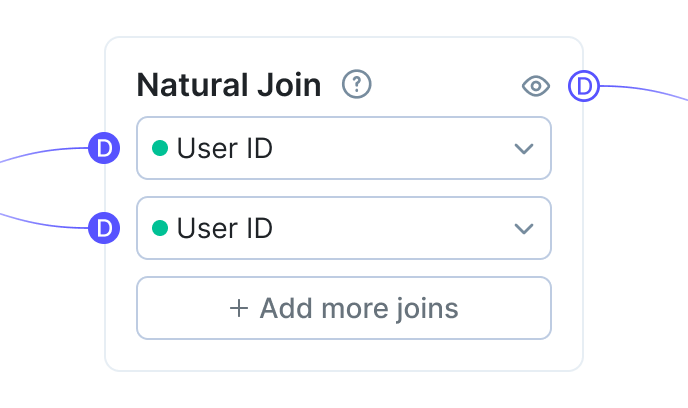 Natural Join
Combine datasets quickly and easily to deliver rich insights. Joins two datasets by matching one or more keys.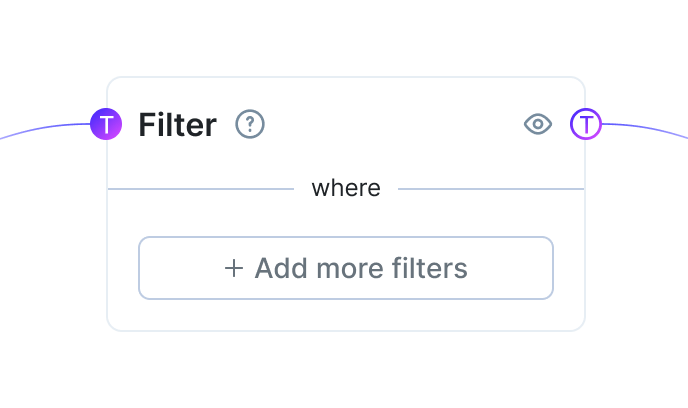 Filter
Segment, cut, analyze - whatever your data project calls for.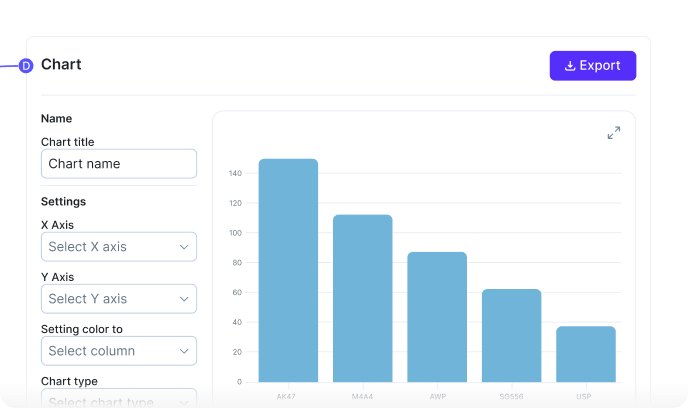 Chart
Display your data and share your findings in a way that stakeholders just get.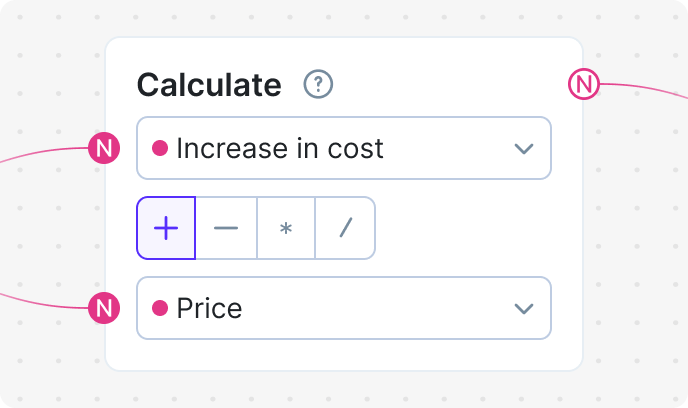 Calculate
Math operators that do the simple stuff well.
 Add, subtract, multiple, divide, or take the exponent of a pair of numbers.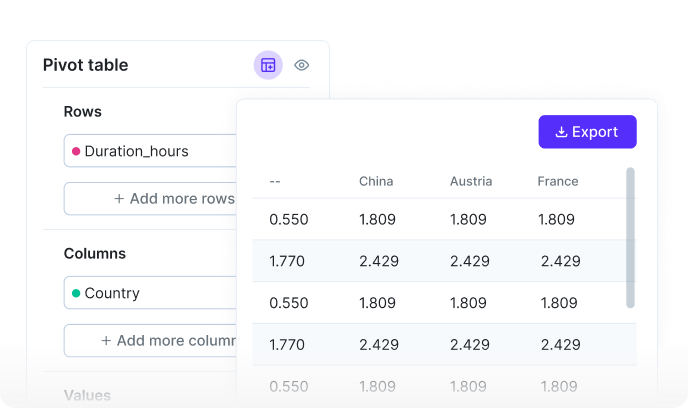 Pivot Table
Yeah we got those too. Now there's really no excuse to be using spreadsheets.